Please note that our website does not utilize "grocery cart" technology. After 20 years in business...we still like to talk to our customers! Call us toll free (888) 775-4800.
To order call (888) 775-4800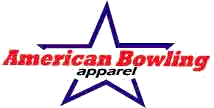 Mason, Ohio
Links:
Digitek Corp.
USA Racing Apparel
American Fishing Apparel
The Company Image
Email: info@AmericanBowlingApparel.com
Note: All logos used on this Web site are to show embroidery and screen imprinting reproduction ability only. They are not meant to be advertisements nor are these items for sale to anyone other than the parties expressly authorized by the owner of such logo designs.